Wat gebeurt er met ons zelfbegrip als ons leven een database wordt?
"Je kan denken in termen van media die we gebruiken. Een medium heeft een bepaalde structuur die zich in onze zelfbeleving inschrijft. Een verhaal over jezelf in een dagboek heeft een begin, midden en eind, wat ons een narratieve identiteit geeft. Wie jij bent, krijgt het karakter van een verhaal. Op nieuwe media als Facebook is de structuur niet chronologisch. Je kunt de database langs allerlei lijnen doorzoeken en stukjes verhalen recombineren. In een database heb je voortdurende veranderlijkheid, 'digitale recombineerbaarheid' zoals ik het noem. Foto's en berichten kun je ordenen hoe en wanneer jij wilt. De manipuleerbaarheid is heel groot. Die nieuwe structuur is typisch voor hoe onze identiteit nu ervaren wordt. Denk aan de selfie-cultuur. Je manipuleert en recombineert beeld om er zo mooi mogelijk op te staan en het leven te presenteren als een doorlopend feest."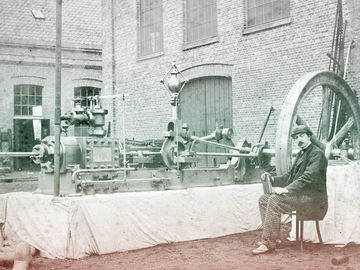 De uitvinding van de stoommachine markeerde het begin van de industriële revolutie. We hebben altijd technologie gebruikt om onszelf uit te drukken, volgens Jos de Mul.
Niet alleen wij maken met data een profiel van onszelf. Bedrijven als Facebook doen dat ook.
"Facebook verzamelt al ons gedrag. Niet met de bedoeling ons leven aangenamer te maken, maar om geld te verdienen. Als jij online kijkt naar een tasje van Prada of een vliegreis naar Spanje, dan krijg je van het algoritme daarna talloze advertenties over je heen. De bigtechbedrijven bepalen welke links er op jouw pagina verschijnen. Die selectie is niet per se gelinkt aan jouw persoon of interesse, maar aan verkoopbaarheid. Eigenlijk ben je onbetaald in dienst van dit soort bedrijven. Door ze jouw data te geven draag je bij aan hun verdienmodel."
Gaan informatie- en communicatietechnologieën ons veranderen als mens?
"Dat denk ik wel. Mensen en ICT integreren steeds meer. Gezien vanuit de evolutie zijn er bepaalde tendensen zichtbaar. Naarmate de wereld complexer wordt, hebben mensen meer behoefte aan onderlinge afstemming. De vroege mens ontwikkelde gesproken taal om beter te communiceren tijdens de jacht. Eenmaal als landbouwers in dorpen ontstond het schrift, om kennis over te dragen over grotere afstanden. Toen kwam de boekdrukkunst. En nu is er internet, iets volledig nieuws. Een boek kun je zien als een extern geheugen. Iemand bedenkt iets, schrijft het op en via de bibliotheek is het voor iedereen toegankelijk. Op een computer slaan we niet alleen de producten op van ons denken, maar ook de denkprocessen zelf. Algoritmes zijn in feite onze uitbesteding van die denkprocessen. Door denkprocessen uit te besteden kan er een hive mind gaan ontstaan, een zwermgeest. Onze data zijn de voeding voor die zwermgeest, die als het ware een cognitieve entiteit van heel veel mensen wordt. Onze intelligentie wordt zo in zekere zin iets collectiefs."
Is dit een voorspelling voor de toekomst of zie je nu al tekenen van zo'n zwermgeest?
"Dit is al gaande. Als je via Amazon een boek koopt, gaat je aankoop in de database en wordt die vergeleken met wat anderen kochten. Je krijgt dan een aanbeveling: 'anderen die dit boek kochten, vonden deze boeken ook mooi'. Dit is een nieuw kennisniveau dat niemand individueel bezit. Het is een kennis die ontstaan is door samengevoegde data. In 2012 kreeg Amazon patent op een nieuw algoritme, zogenaamde 'anticipatory shipping', om te voorspellen welk boek je gaat kopen en het alvast op te sturen. Zo ver is het nog niet, maar inmiddels verkoopt Amazon circa veertig procent van zijn goederen op basis van dit soort aanbevelingen. Amazon weet nog niet op individueel niveau wat je volgende aankoop wordt, maar we bewegen wel die richting op."
Wat zijn de nachtmerries van een toekomst waarin algoritmes ons leven sturen?
"Stel dat we op basis van data over koopgedrag en kroegbezoek kunnen voorspellen dat er een grote kans is dat iemand zijn kinderen verwaarloost. Op basis van die informatie kun je preventief ingrijpen. In zekere zin gebeurt dat al bij consultatiebureaus. Als je een probleemgezin bent, krijg je al extra monitoring. Er zit wat griezeligs aan. Tot nu toe was ons strafsysteem gebaseerd op ons verleden: je misdraagt je en krijgt straf. Wat als je straks gestraft wordt voor iets wat je nog niet gedaan hebt, maar mogelijk gaat doen? Het doet denken aan de film Minority Report, waarin drie orakels moorden voorspellen. Zij doen wat computers tegenwoordig doen."
Waar gaat het heen met de macht van algoritmes?
"Algoritmes hebben macht over ons en dat zal toenemen. De precieze werking van algoritmes gaat vaak – bijvoorbeeld bij het gebruik van neurale netwerken die al doende hun eigen regels creëren – het petje van de programmeurs te boven. Nu wordt de vraag hoeveel autonomie we moeten toekennen aan algoritmes, en of we ze überhaupt nog kunnen controleren. In het debat heb je aan de ene kant de technologisch deterministen, die zeggen dat de techniek zijn eigen gang gaat en we er niks aan kunnen veranderen. Aan de andere kant staan de sociaal constructivisten die zeggen dat mensen altijd kunnen ingrijpen. Ik denk dat mensen invloed hebben, maar dat we de toekomst niet altijd kunnen voorspellen."
src="https://67a9f12c562e4385958ef41a7bba215b.objectstore.eu/assets_production/system/files/000/252/337/medium/medications-4160209_1920.jpg?1611817634" data-source="252337" data-original="https://67a9f12c562e4385958ef41a7bba215b.objectstore.eu/assets_production/system/files/000/252/337/medium/medications-4160209_1920.jpg?1611817634" />
Medicijnen komen met een bijsluiter. Hebben digitale producten ook een bijsluiter nodig waarin de bijwerkingen staan?
Hoe kan controle eruitzien?
"In de EU hebben we wetgeving die stelt dat algoritmes uitlegbaar moeten zijn, anders mag je ze niet toepassen. En als je je data afgeeft, bijvoorbeeld aan een arts, moet je weten wat ermee gebeurt. Je wil niet dat jouw gegevens worden doorverkocht aan verzekeraars. Bij het ministerie van Binnenlandse Zaken heb ik gepleit voor een 'digitale bijsluiter' voor digitale producten, net als een bijsluiter voor medicijnen. Wat is de werking en wat zijn de bijwerkingen? Je kunt als overheid op z'n minst vertellen 'als u deze data invoert, dan gaan wij deze dingen ermee doen en deze dingen niet'. En dan niet in een document van negentig pagina's vol onbegrijpelijk jargon dat niemand leest."
Kunnen we de veranderingen in de samenleving aan zonder steeds slimmere ICT?
"De grote problemen in de wereld worden, mede door klimaatverandering, complexer. Daardoor zijn we steeds meer aangewezen op vernuftige technologie, daar zit een bepaalde dwang achter. Als we de effecten van klimaatverandering en bevolkingsgroei zelf niet kunnen indammen, dreigen we ons over te geven aan technologieën die we niet meer kunnen doorgronden en die ons gaan overvleugelen. We moeten proberen te dat te voorkomen."
Dit artikel publiceerde NEMO Kennislink op 08 november 2021